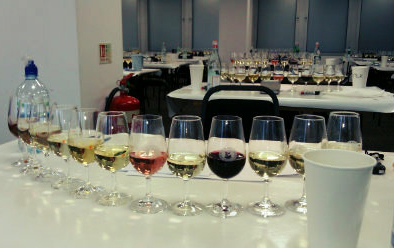 How does soil influence wine quality? How does changing a trellising system affect vineyard health and yields? Following malolactic fermentation, what options are available to reduce alcohol levels in finished wine and how should they be deployed? Critically examine the extent to which the increasing emphasis on "natural wine" is a positive development for consumers.
A record 98 candidates tackled questions like these two weeks ago in London, Napa, and Sydney. Then they had to dive into three blind tastings of twelve wines each, over two hours each, trying to parse differences in white, red, and sparkling (gah–with four moscato wines in the sparkling flight!). After passing the exams and submitting a 10,000-word research paper, the students would have their names added to the list of 298 current MWs worldwide. (Impressive as it is, some have wondered aloud if passing is little more than just a bragging right from a career perspective).
The Institute has posted the entire exam to their website and it is well worth checking out. Since there are no instructions, students had to respond to one question in each section A and two questions from each section B of the "theory" section. In the "practical" section, students must score 195 (out of a possible 300) to pass. It amounts to a really huge volume of wine knowledge that takes years to compile–students aren't allowed to sit the exams until after two years of study. Richard Hemming, who took the exams this year, wrote on JancisRobinson.com that he has spent almost $10,000 this year in tuition, exam fees, and wine to prepare. He also spent 28 "working days" preparing since last September. Since it's rare to sail through on the first try, each student has three tries to pass the exams, given annually.
A couple of months ago, the Institute of Masters of Wine took the bold step of investigating one of its members for violations of its code of conduct; the member resigned. Posting this year's full exam adds to the transparency and relevancy of the Institute. Now, what's left for the Institute to achieve its own Perestroika is to make available not only the titles of the 10,000-word research papers that candidates must pass to become MWs (called "dissertations"), but also the papers themselves.
In higher education in the United States, Ph.D. dissertations are archived and accessible via UMI and any student's master's thesis is likely found in their university's library. Certainly much research in the US relies on government funding in some way, whether a grant or at a state university, so there's a fiscal basis for the openness. But most importantly, it's about sharing ideas and findings to advance our collective knowledge. While the Institute of Masters of Wine is a private institution, their students draw on the industry's time and resources while doing their research. We all benefit from the fruits of the vine; making the successful candidates' essays publicly available would be the best way to share the fruits of their research with both consumers the trade. Indeed, in this era of information openness and wikileaks, it's hard to see it any other way.