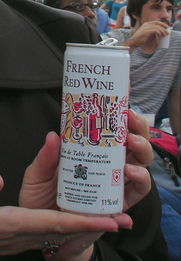 When you get a wine in a can, does the sommelier let you sniff the lid? And place it on the table during dinner?
The Telegraph (!) reports on a study that shows alternative wine packaging is on the rise. The (British) industry is trying to lightweight materials: Marks & Spencer has ten wines in pouches this year and 200 million liters of wine will be sold across Europe in cans next year.
What do you think: sign of the wine apocalypse or a green choice? In your calculations, consider that although aluminum is much lighter than glass and is very recyclable and cans are efficiently stackable, the emissions of making aluminum may negate the greenhouse gas savings in transport, especially if the journey is short and the can is used only once and then chucked in a landfill.
Related: "Calculating the carbon footprint of wine"