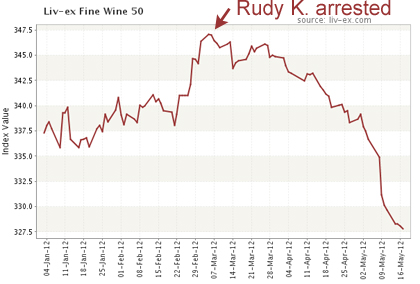 The arrest of Rudy Kurniawan on March 8 coincided with the top in the fine wine market this year.
Even though Kurniawan–whose guilt or innocence on wine counterfeiting charges remains to be tried in federal court–was apprehended, wine fraud remains an easy crime: combine sky-high prices with an old collectible whose authenticity may be difficult to verify and willing buyers who may have more capital than wine know-how or may have little intention of ever opening the bottles anyway.
Wine counterfeiting has been around for decades and I've always been surprised that it doesn't get priced in to the fine wine market (but wines sold directly from the producers do fetch a premium). Paul Chiu, a Burgundy fan in Hong Kong, tweeted to me the other day that there's still surprisingly little discussion about counterfeiting there.
So, as the ArtInfo points out, the decline in the (young) Bordeaux index probably has more to do with shifting (more discriminating?) tastes to old wine and Burgundy since the broader Liv-Ex 100 has not fallen as sharply. "Lafite is out, and Conti is in." Ack, if the auction market's taste for Burgundy shifts into high gear, it could crush even a non-collector's premier cru habit.
But with the Chinese economy slowing down, FT Alphaville suggests some cynics might point out that fewer wines are needed for bribes. Baksheesh aside, it will be interesting to see if, going forward, counterfeiting or the Chinese economic slowdown impacts fine wine prices more. But maybe there will be more buyers, such as the Stamford Management Group, which is raising $100 million for a fund to buy Bordeaux and jade antiques. And perhaps there will be more liquidity and lower spreads if SecondMarket really gets into wine.