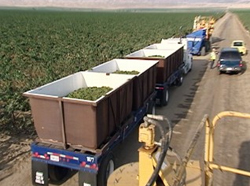 Two Buck Chuck turns ten this year.
We were reminded that Fred Franzia's Bronco Wine Co. owns 40,000 acres of vines in the San Joaquin Valley, debt-free, which helps keep the wine price so low.
How big is a 40,000 acre vineyard? It's about 50 times the size of Central Park, and, in fact, about three times the land area of Manhattan. So it must suck if you forget something at one end since there's not even a subway in the Bronco vineyard.
"Evaluating the taste and cost of "Two-Buck Chuck"' [KALW.org]
"3 charged in pregnant farm worker's death" [AP]
"Drink up: The rise of really cheap wine" [NewYorker.com]