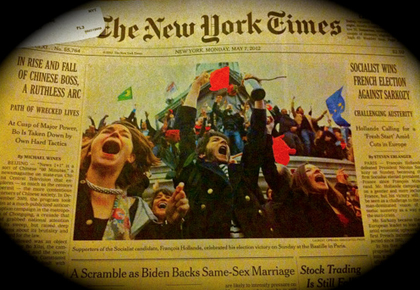 At the polls yesterday, French voters bid adieu to President Sarkozy who was famously, and incongruously, a teetotaler as head of France. "President Bling Bling," as he was known, will now be replaced by "Mr. Normal," Francois Hollande. As far as our beat is concerned, does that mean that a wine-lover will be returning to the Elysée Palace?
The last Socialist occupant, Francois Mitterrand, was a fan of the fruits of the vine. Segolene Royal, former partner of Francois Hollande and mother of his four children, said when she ran against Sarkozy in 2007 that while working as an adviser to late president Francois Mitterrand in the 1980s, she "learned that eating and drinking were the two pillars of the French art de vivre." So there's hope. And Hollande's current partner, Valerie Trierweiler, was born in Angers and likes his cooking even if he uses too much butter. So there is hope, from a wine geek's perspective, that he is a Champagne Socialist who might even be able to talk about the terroir.
Hit the comments with any intel you might have about le vin d'Hollande. And note the wine in the above photo.