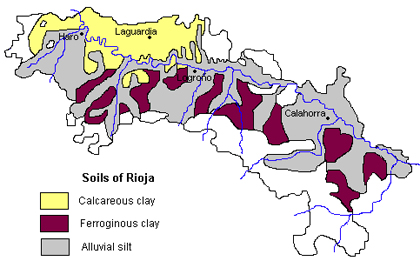 Mosel winemakers love to talk about the blue slate of their soils. A discussion of Chablis couldn't be had without mentioning Kimmeridgian. Coonawarra has its terra rossa and Rutherford has its dust. But what about the soil in Rioja?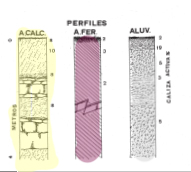 As Telmo Rodriguez recently discussed at length, to his lament, the Rioja winemaking process favors process over place. So as a companion to that post, here is a relatively little-known soil map that Don Manuel Ruiz Hernandez put together. (In a funny contrast to how some New World vineyard owners are obsessed with mapping vineyard soils, this one is from 1972, the blink of an eye geologically speaking, I guess.) It shows three types of soil: chalky clay soil (yellow); ferrous (or ferruginous) clay soil (maroon); and alluvial, silty soil. Describing the differences, he writes "the ones with the most moderate of yields, the Calcareous-Clay ones, are, thus, the lands from which the most special qualities is achieved."
It's hard to generalize since other factors, such as elevation and sun exposure, play a part in grape characteristics and the overall wine quality. But many of the structured, most age-worthy wines from Rioja come from vineyards in the calcereous soils.
It is worth noting that the official subzones (map below) don't match the soil types. Instead, they map the regional boundaries: the swath of La Rioja administrative region that lies on the northern banks of the Ebro River is classified as Rioja Alta; lands in the the Basque province of Alava are in the subzone of Rioja Alavesa even though the soil map shows continuity. Here's a link to a map that includes elevation, which lies to the north of the river with some vineyards planted at 2,600 feet (800m) altitude. Here's a more detailed version of Manuel Ruiz Hernandez' map above.