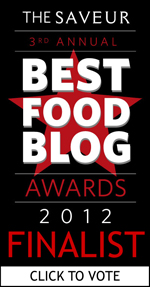 SIPPED: award
According to the illustrious Hosemaster of Wine, wine bloggers are barking poodles calling out for attention. So, yay, the editors at Saveur have included this blog as a finalist in the best wine and beer blog category. Woof! Click through to vote and see the complete shortlist (which includes some good ones but doesn't include Hosey, sadly). [Saveur.com]
SPIT: vintage of the century
The commercially savvy Bordelais scheduled en primeurs during the quasi-holiday week before Easter. Why? Well, some rushed to pre-judge expressing "no interest" in the wines, while others went and tasted with full reports due soon. Rumor has it that some top chateau will cut prices by as much as 50 percent on the first tranche of 2011.
SIPPED: waistlines and increasing demographics
If NFL viewers are going to put down the Lite beer and pick up a wine glass, they might reach for a wine from Three Fat Guys, a new wine from three former Packers who weigh in at a cumulative 1,000 pounds. The linemen say they're doing it because they like wine, not to make money, and with a paltry 126 cases made, they may actually mean it! [Arizona Republic]