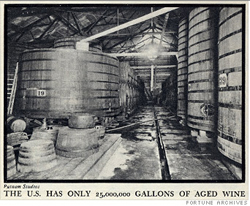 SIPPED: circa 1933
Fortune.com republished a lengthy archive article from 1934 over the weekend. There's lots to savor: the author suggests American wine can handily undercut French wine on price, urges an Eastward expansion of vineyards in the US, and notes that Champagne wasn't considered wine by government policy.
SIPPED: LOLz
"Jay McInerney writes for the 1%–that is, the 1% who are happy he replaced John and Dottie." A snippet from a hilarious roundup by the Hosemaster. See also: Dr. Conti, Prison M.D.
SIPPED: Cheval Blanc '47
Well, not by me, sadly! But Sotheby's is offering the wine (in 750 and magnum!) among others offered directly from the Chateau cellars. How big will the authenticity premium be on the bottles?
SPIT: lite beer
A Bloomberg article suggests the increased interest in wine is, in part, spurring America's thirst for craft beer. And in Canada, wine's popularity is growing much faster than the flat suds. Over the past decade, beer sales have slipped while red wine has grown 181%. Maybe one day wine will outsell beer. Now that would be something, eh?
SIPPED: more laffs
A propos of nothing wine, put this NYer humor piece ("Vive la France") in your queue. Here's a taste: "In France we do not even have a word for fat. If a woman is obese, we simply call her American."