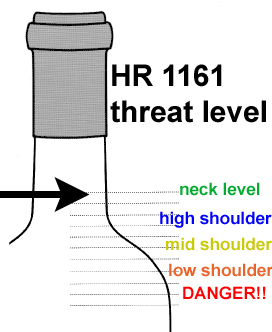 After appearing in two sessions of congress, a legislative proposal that would have threatened the legal, direct shipment of wine is dead according to Shanken News Daily. They cite Tom Cole, president of Republic National Distributing Co., who says "The CARE Act is officially off the table."
Wine lovers can breathe a sigh of relief. And we are dialing the official HR 1161 threat level back to neck level! (See backgrounder here and here). We were concerned that in the "lame duck" session when oh-so-much wheeling and dealing is likely to be done, that it could have squeaked through in some form. It still might, but the wholesaler will appears to have slackened.
I wonder what led the wholesalers to pull in their legislative claws? The brief Shanken News piece had no insights in this regard. But in this Super PAC era, it would be delightful to think that possible voter outrage trumped campaign contributions. It is interesting to note that wholesalers recently did an about-face on a restrictive reform in New York State. Hit the comments with your take on the situation.