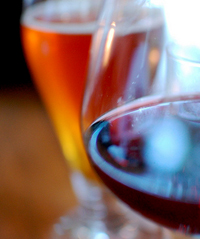 One of the most exciting drink stories in America is the craft beer revolution and its related rise in home brewing. An article on Slate details that policy held back the hops: banned after Prohibition, it wasn't until President Carter signed legislation in 1979 that allowed households to brew up to 200 gallons a year. Unregulated by laws such as Germany's famous beer purity law of 1516, American home brewers experimented (as had the Belgians who were similarly unfettered by regulations) and today we have arrived at the point where the US is seen as the most innovative craft beer market in the world. Indeed, Belgian breweries are even buying American hops.
In the piece, the author says there are 27,000 home brewers who pay $38 a year to be members of the American Home Brewers' Association. Home brewing is wildly popular, even among wine geeks. Josiah Baldivino, sommelier at Michael Mina is so confident in his brewing skillz that he whipped up an IPA to serve at his wedding. Jim Clarke, somm at Giorgio Armani restaurant had a couple of brews going when I spoke with him recently. The Slate author suggests the motivations of home brewers include "self-reliance, community-building, autonomy, independence from monopolies, an alternative to rampant consumerism, innate curiosity, and the desire to make something cool."
So here's my question: given how popular home brewing is, why is home winemaking not more popular, particularly with younger wine hipsters? Wine is certainly popular and would be cool to make. And we wine geeks like both community and autonomy (an odd mix) and are just as self-reliant as home brewers. Home winemaking is popular as judged by the fact that three of the regular, top-selling wine titles on Amazon have to do with home winemaking. Even though some outfits such as Crushpad and City Winery have altered the demographic somewhat, it appears me, anecdotally and generally speaking, that the demographic is older and people who are more into drinking rather than sipping. Even though I have made neither at home, it seems that it would be much harder to make good wine than it would be to make good beer because it is hard to get good grapes, especially if you live some distance from a vineyard. And most home-made wines that I've tasted have gotten 99 points for effort and decidedly fewer for what's in the glass. Whereas, I've had some quite good homebrews.
In your experience, who makes wine at home? Will urban hipsters be making wine any day soon?