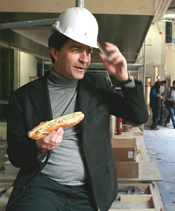 Chef Yannick Alléno, recipient of three Michelin stars, adores New York hot dogs. According to a piece in the NYT Dining section, he loves the hot dog so much that he wanted to make a French version, out of calf heads. Instead of calling it literally a "chien chaud," he opted for truth in labeling, going with "veau chaud" (hot calf). Site reader Caleb Ganzer writes in to see if we might try to pair it up. And to that we reply "fo sho with the veau chaud"
So here's a bit more on the dish that can be eaten without a plate. The nine-inch sausage is made from "edible bits of a cooked calf head, or tête de veau" (brains and eyes excluded). Served on a mulitgrain (!) baguette, the dog, or calf, is topped with gribiche sauce, which is a vinaigrette with capers, cornichons, and hard boiled egg, herbs and mustard.
"I have adapted the 'dog' to the true ambience of Paris," Alléno told the Times. "There is nothing more Parisian than tête de veau."
And there's nothing more French than wine! So which wine would you pair with it? Or is it…impossible?!?