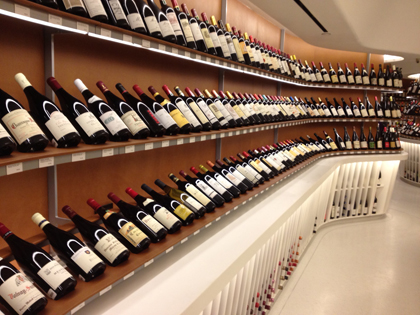 So if a sleek wine shop opened in the arcade under the new Goldman Sachs building, you'd expect it to have oversized bottles of first growths and Napa cabs, right? Well, Vintry Wine and Spirits has plenty of trophy bottles, but it also has some reasonably priced and very drinkable ones.
Nestled among the magnums and imperials on the sleek shelves are the wines of Arianna Occhipinti from Sicily, Ar.Pe.Pe in Valtellina, and Chateau Thivin from Beaujolais among the shop's 2,500 bottles. Clearly whoever assembled the selection thought about serving the area's residents as well as the Masters of the Universe in the tower above. And that decision fell to Michael Martin, general manager, who told me that most of the purchases thus far have been between $20 and $40 a bottle–although one customer did buy a $2,000 bottle on whim on his way to the register. One of the store's owners, Peter Poulakakos, comes from a fine wine background as his father owns Harry's Steak, which has a lengthy wine list.
Customers who care to probe the shop's inventory can talk to the staff or tap on one of the iPads mounted throughout the swanky shop. Mike told me that he's most proud of the Champagne and Burgundy selections, and they are particularly deep, with many grower Champagnes (though the only Selosse is the Initiale!).
But there's one wine that customers won't find here: Yellow Tail chardonnay. Time for those who want it to get familiar with Chablis…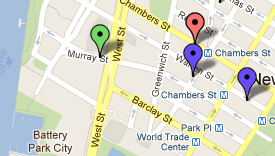 Just across the West Side Drive in Tribeca are three other stores that are also worth noting: Chambers Street Wines, a national leader; Frankly Wines, the most charming 300 sq. ft. wine shop in Manhattan; and New York Vintners, which has many events with winemakers among other charms. This area gives the locals plenty of choice and makes it wine destination neighborhood for the rest of us.
Vintry Fine Wines, 230 Murray Street (West Street), Battery Park City, (212) 240-9553, vintryfinewines.com