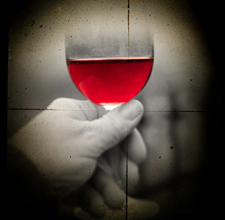 The French have a wine term that doesn't translate. No, it's not terroir. It's vin de soif. A wine that's thirst-quenching is a fun drink that accompanies food or a moment but doesn't dominate them. It's lowish in alcohol and in price. While the concept translates, the category comes up frustratingly empty when looking for American answers (for red, at least).
I put the question to my tweeps the other day "What's in your glass when you want a thirst-quenching, domestic red wine?" The replies were telling. Bruce Schoenfeld,"Something domestic to a different country." Mike Steinberger said "Um, Beaujolais." Michael Kortrady replied " (uh, gosh, umm, well, ya know…I'm sure I've had one)."
There may be hope. Chambers Street Wines recently offered the wines of Chris Brockway's Broc Cellars calling them "Californian vin de soif," including his 11.9% alcohol cabernet franc. Hirsch Vineyards has the ebullient, crackling Bohan Dillon 2009, a 13.1% pinot noir. Sommelier Raj Parr is teaming up with Arnot-Roberts to make a gamay. The trouble with the first two examples is that they are north of $25, so there's only so much thirst one can quench. We have discussed California's value challenge before several times.
Do you lament the dearth of American thirst-quenching reds or do you find some good examples?