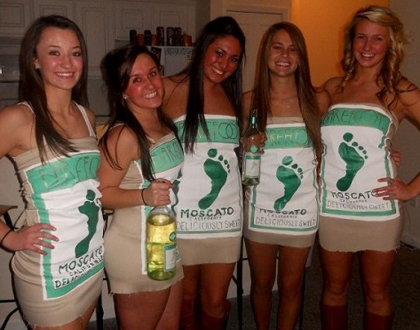 Many of us wine writers praise the trend to lower-alcohol wines. But there's one low alcohol wine that has taken off yet generated little coverage: Moscato.
Sales of the $6 sweet, fizzy white that ranges between 5 – 9 percent alcohol have almost doubled each of the past two years, albeit off a small base. The top-selling Barefoot moscato, made by Gallo, had $31 million in sales in 2010. A spokesperson for Gallo told Marketwatch "What makes this so exciting is that it's bringing new users to the wine category." Yes, and where there are "users" there is "innovation" such as Beringer's "red moscato" that adds zinfandel and petite syrah for some red and black cherry flavor. Yellow Tail recently introduced a moscato.
Moscato has now taken a revered place in pop culture as hip-hop performers are touting it. Yes, it's a sign of the times that we're no longer in a Cristal economy, but a Moscato one. Here's a taste of the hip hop lyrics from Ab-Soul: When things get hard to swallow / We need a bottle of moscato. And Trey Songz' "I Invented Sex" (wherein he also admits to drinking "Ace": It's a celebration / Clap clap bravo. / Lobster and shrimp and a glass of moscato / finish the whole bottle.
I've recommended Moscato d'Asti as perhaps the ultimate wine for newbies so it doesn't surprise me that it has taken off, presumably poaching market share from white zinfandel. But good moscatos from Piedmont producers such as La Spinetta or Elio Perrone, with acidity undergirding sweetness, are not the wines driving this lastest trend. But that's fine. I adopt a live and let drink approach–if this is a "gateway" wine then so be it. Maybe next they will discover Riesling.
What do you make of this moscato madness–a good thing or the next incarnation of Nasty Spumante?