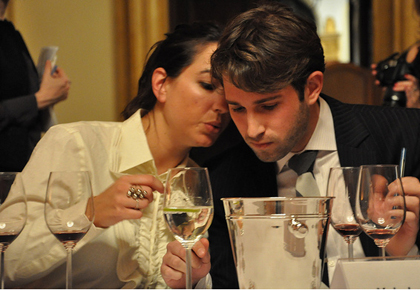 The business school students sniffed, swirled and spit the three glasses of Sauternes in front of them. They had come from places like Columbia, Northwestern, Stanford, and Harvard to sit under the tableaux and tapestries at the French Consulate on Fifth Avenue, try wines and answer questions, competing to win the big prize: making it to the finals in Bordeaux.
The challenge in this flight of sweet wines (that also included one from Barsac), was to identify first, which two wines came from the same vintage. Most teams got this one right. But then came the harder question: which vintage did those two wines come from?
Only one team guessed 2002, the correct answer, the group from the University of Chicago's Booth School of Business. And that was enough to give them first place and send them (and Wharton, whose group finished second) to Bordeaux later this year to compete against other teams of business school students from France, Japan and beyond at Chateau Lafite. Although the competitors must fly themselves there, once on the ground their expenses are covered. While the prizes are mostly vinous, competitors are given a plane ticket to return to Bordeaux in the future.
The competition, started in 2002 pitting French schools against British ones and expanded to include other countries only last year, was known as "20 sur vin" but has now been renamed the Left Bank Bordeaux Cup (LBBC). It's organized by a Bordeaux goodwill society, the Commanderie du Bontemps de Médoc et des Graves, Sauternes et Barsac.
High prices and corporate ownership have alienated young American drinkers from Bordeaux, also known as "bored-oh" in some circles since mere mention of it elicits a yawn. So it is a really smart idea of the Commanderie to target these younger consumers, who will likely be high earners and possibly tomorrow's American buyers of Bordeaux. I'm surprised that they organization hasn't collaborated with the Jurade in St. Emilion to have a more pan-Bordeaux approach; in fact, I'm surprised that other premium regions in the wine world haven't thought up similar competitions to target this choice demographic.
At the French consulate Wednesday evening, the eight teams had to answer a round of questions, that ranged from easy to very difficult. I'm sure the B school students (as well as Columbia Law and Yale Law) were craving iPhone access since a quick search could have revealed many of the answers in an instant. But several of the teams had one or more members who had either worked in the wine trade or had some tasting experience.
Sadly, there was no jumbo scoreboard so the competitive juices of each team had to be stoked by their own thirst for victory, not an instantaneous knowledge of their relative standings. It also made it less of a horse race, less interesting to the handful of non-participants that were in the room. (Perhaps they don't have game shows in France?) I tweeted a few of the questions real-time and was surprised to find I was the only one who was doing so in the room–perhaps next year, the Commanderie will discover Twitter. True to the "bontemps" moniker, all the participants broke bread and sipped Bordeaux together afterward.
It's open to more participation so if you have a wine club at your college or university, ask the Commandarie how to be involved.
I didn't catch all the questions but I reproduce some here–as well as some official photos–to give you a taste. (Note: most of the questions were multiple choice but I didn't note all of the choices.)
Which year did the Commanderie de Bontemps come into existence? (A: 1950)
How many fourth growths are there in the 1855 classification? (A: 10)
How many comunnale AOCs are there in the medoc? (A: 6)
What is found at the tip of the Medoc peninsula? (A: Pointe de Grave)
What does the acronym INAO stand for? (A: Institut national d'Origine et Qualité)
Classified as a second growth in 1855, Chateau Lascombes, located in Margaux takes its name from… (A: the knight Antoine de Lascombes)
In 2010, wine consumption in the US stood at… (A: 330 mln cases)
Alcoholic and malolactic fermentations are two essential parts of winemaking. In which order do they take place? (A: alcoholic then malolactic)
On the 25 may 1787, Chateau Margaux received a visit from a famous person, who was it? (A: Thomas Jefferson)
See the Consulate's Flickr photostream.