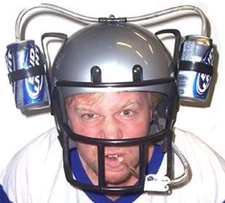 It's time for the Big Game. Or, actually, the last three Big Games of the NFL season. And no drink says "football" like wine! Actually, although Sunday's NY-SF game could be framed as something of a sommelier showdown between two of the highest wine-consuming cities, I'm fine to cede the discussion of the day to football's natural advertising companion, beer.
The question on my mind: how did light beer come to be the choice of NFL viewers? Fully one out of every two beers sold in America today is a light (or "lite," if you prefer) beer. It didn't always used to be this way as light beers were a relative niche marketed for women or people interested in watching calories. Somehow, gazing over the five-layer dip at the displays of modern machismo onscreen (or sporting a beer guzzling helmet, as above), NFL viewers don't strike me as the most likely demographic to be counting calories.
The easy answer is that marketing told viewers to reach for a lite beer. Bud Light paid $1.2 billion to be the official beer of the NFL starting this year. And before that, it was Coors Lite. So much lite!
So if ads, ads and more ads are the answer to how, that leaves us wondering why Big Beer would want to "light" up America? Perhaps they are virtuous, trying to reduce the country's caloric intake. Or maybe it has to do with their own bottom line, not America's waist line, since light beer has fewer calories (and less taste) than "regular" beer, therefore it needs fewer of the inputs such as hops and barley (although Big Beers often use rice or corn as these data show).
But reducing calories in beer basically means reducing alcohol: A Budweiser has about 145 calories but a Bud light has 115 and the alcohol levels are 5.0% and 4.2%, respectively. According to this website, a Sierra Nevada Pale Ale has 175 calories and 5.6% alcohol and a 7.0% alcohol IPA might come in at 218 calories. So basically, having two Bud Lights is the caloric and alcohol equivalent of having one IPA, such as the excellent Titan IPA from Great Divide brewery. Hmm, not a tough decision for me. Coming from the world of wine, where labeling is mandatory if not always accurate, I'm surprised that not all beers have the abv on the label but that would go a long way in helping drinkers make their own calculations about consumption.
If beer is merely an alcohol delivery device for NFL viewers, as a friend suggested to me, then pushing light beer would make viewers reach for that extra beer. Of course, consuming more liquid would also mean more trips to the bathroom but the last time I checked, Anheuser Busch wasn't collecting a toll at men's rooms. But what AB/InBev and the other big producers do want is more unit sales, which fits right in with the volume mentality. Also, sales from Big Beer have been declining while craft beer sales have been soaring, up 16% year-over-year. To illustrate just how much momentum craft beer has, consider the fact that according to Brewers Association, there are currently 1,949 craft breweries in the US and an (eye)lid-popping 915 about to open. By pushing light beer, with fewer calories and flavor, Big Beer appears to be propping up an ailing (aleing?) legacy business and ignoring the craft beer phenomenon (although Bud did acknowledge the importance of the category by buying Goose Island).
How do you explain the puzzle of light beer and the NFL?