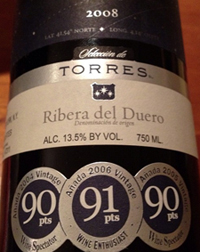 We all know that Spanish wineries looooove critics, so much so that they would pay extravagant fees for a "master class" by a point-wielding critic on "a freelance."
The good folks at Torres have decided to wear their hearts on their sleeve by putting the score right on the front label! What, are they declaring war on shelf-talkers? If this practice becomes widespread, what will be left for uncreative retailers to use, a bunch of vapid descriptors running around in search of points?
Oh, and the scores are for previous vintages. It really answers any questions you might have when you dim the lights, sit down to dinner and wonder which scores the previous vintages of the wine received.
Message in a bottle to Spain: there is a score-free universe out there.