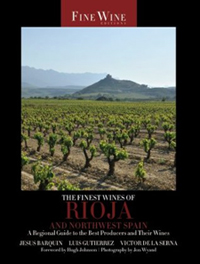 After so much discussion of the Parker-Miller-Campo imbroglio (see a thorough recap from Monday here), it's refreshing to read about the wines of Spain again without thinking of "no pay – no Jay."
The new book, The Finest Wines of Rioja and Northwestern Spain, made me do just that. Up-to-date, with gorgeous photos, the book is by a trio of writers and tasters, well-known in Spain and possibly outside: Jesus Barquin, a criminology professor and sherry lover whose passion led him to co-found Equipo Navazos, a boutique producer of excellent sherries; Luis Gutierrez who recently started contributing to jancisrobinson.com; and Victor de la Serna, deputy editor of El Mundo, a leading Spanish daily, who heads El Mundo Vino.
Although the book is largely a collection of 85 producer profiles, the authors open the book with several good discussions, one about the grape varieties (they acknowledge the resurgence of indigenous varieties in the northwest) and another about traditional versus modern winemaking. This latter discussion is of most importance in Rioja where modern style has been ascendant. The authors dispute the notion that the modern style of dark, extracted, fruity wines has been a "curse" for the region and are surprisingly accommodating of it saying that the best of the moderns "will in turn become classics." I guess it would have been a short book if they didn't adopt a non-partisan, ecumenical stand on the modern-traditional issue. They also admit that their personal collections have many examples of traditional producers from the best vintages.
The profiles bring the producers to light in one to six pages and include traditional producers (Lopez de Heredia and La Rioja Alta), modern (Roda), mixed (Muga) and up-and-coming (Olivere Rivière). They also discuss Txakoli, Albarino and wines from Ribeira Sacra and Bierzo. Throughout the book, they highlight a top wine from a producer with a star; I agreed with enough of their starred wines that I will look for some other of their suggestions to try. They also tuck in a list of restaurants and shops with good supplies of aged Rioja (though how many will be modern?) that would be helpful to travelers to the region. In fact, with its wealth of practical information and advice, I wouldn't head to the region without it.