With yesterday's announcement from Robert Parker that Jay Miller will be leaving The Wine Advocate, five wine regions will be getting new reviewers for the publication.
David Schildknecht is a thoughtful, erudite, thorough reviewer with a tremendous knowledge of the regions he covers. The one time I met him, he held forth on not only the wines in front of us but also Austrian soil types, vineyard weather exposure, family histories of producers, classical music and butterflies. He was an importer of German wines. He currently reviews the wines of Germany, Austria, the Loire, Languedoc-Roussillon, Beaujolais, Alsace, and America's east coast. He will add Oregon and Washington to this list.
Neal Martin, 40 and based near London, will be the publication's critic for Spain, Argentina and Chile adding to his new-ish coverage of Sauternes, South Africa and part of New Zealand. He has mostly been an "at-large" critic without a geographical region though he has been working on a book about Pomerol. In a 2006 posting on his site after attending a Spanish tasting, Martin wrote: "I have never really got under the skin of Spanish wine. This tasting does little to alleviate my apathy." Martin entered a eBob thread on tempranillo in 2007 and wrote "in most cases I view it as more of a work-horse grape that works better as a blend rather than a single variety."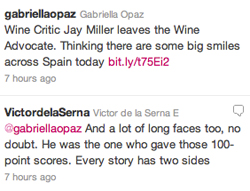 A couple of things to note in all this. First, Parker has not selected a regional expert for any of the new regions. While Galloni had only been to California and Burgundy twice before assuming his coverage of those areas, it's not immediately clear if Martin, in particular, has been ever been to and tasted in the regions of his new assignment. Also, a with so much ground to cover, hopefully they manage to slow down and not feel compelled to taste at nine wineries in a day.
Further, and most importantly, neither Martin nor Schildknecht would appear to have any patience for the high-octane, woody style of red wines of all of his coverage that Miller championed and showered with points, including many 100-point scores. So the wineries that were making wines in a style explicitly to appeal to Miller may find these new critics more abstemious with the scores. Or perhaps not–maybe the path of least resistance for the new critics is simply to lavish praise on all styles? Their first reviews will tell.