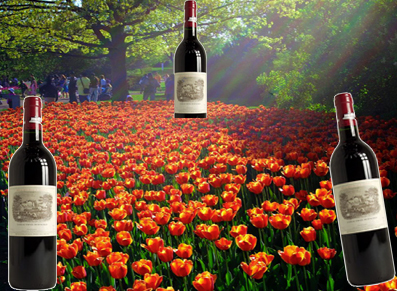 What has hints of red fruits, leather, tobacco, and tulips? Why, the wine investment market!
Elin McCoy reports from Hong Kong that a fund there will lend up to $641,000 (USD) for investing in wine–providing the investments are in the bank's select list of 50 top names. She also reports that a new fund at Pacific Asset Management seeks to invest over $150 million in wine (it's raising $30 million initially). There's talk there of other funds diversifying into wine; some European wine investment funds have opened offices.
More money, chasing wines and returns while dodging counterfeits, smacks of tulip mania and the greater fool theory. When will some financial wizard develop a way to short wine?
One aspect of the wine market that defies tulip mania is the fact that even as more money appears to be rolling in, top Bordeaux prices are falling: the Liv-Ex Fine Wine 50 Index that tracks the last ten vintages of physical (not en primeur) Bordeaux first growths is down 18% in the past quarter. Interest in red Burgundy is up, as is interest in non-first growth Bordeaux. Breadth of wines is probably healthier than all the money funneling into a small group of wines and a broader index of wines is up 13% over the past year, but with declines in the past quarter. And a recent Hong Kong sale saw only 84% of lots sold. So maybe there is some sanity.
Hopefully, if it crashes, whoever is left holding the proverbial bag will have a corkscrew. And real, not counterfeit, wines.