Coincidentally, two American critics are tweeting from their Burgundy visits right now. The critics are Antonio Galloni of Robert Parker's The Wine Advocate and John Gilman, who publishes The View from the Cellar. Galloni offered this information from his trip on Twitter: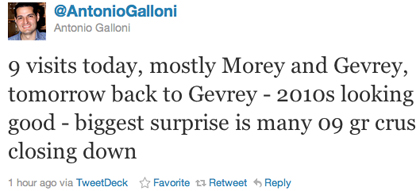 Nine visits per day, needless to say, would equal about 30 – 45 minutes per visit. So I asked how much time he spends at each domaine. He replied, "depends on the # of wines, key is to have everything ready in advance, put visits close together."
If he was tasting the Bourgogne-level wines, village wines, premier crus and grand crus (if any) for reds and whites, and for two vintages, that was a lot of swirling and spitting! I asked if he had sufficient time to evaluate the wines. He replied, "Sure thing. Tasted '10 reds, plus selection of 09s, no whites." Galloni had been to Burgundy twice prior to taking over coverage of the region earlier this year.
I saw John Gilman was also awake and tweeting, so I asked him how long he takes per stop while in Burgundy. He said, "Depends on the size of the cellar–Drouhin or Jadot count as 2 stops–average is 1.5 hours- I like to take time to talk w/ vignerons." Then he added, "most I did on single day on this last trip was 6–3 in morning and 3 in afternoon–started a 8h00 & finished up at 19h00–exhausted."