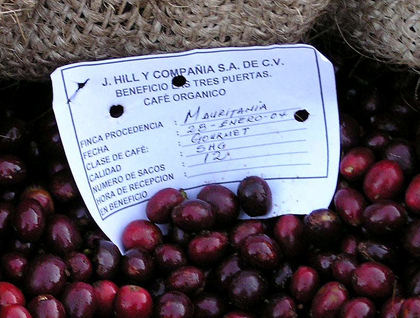 In a profile of Aida Batlle, a coffee grower in El Salvador, The New Yorker blows the lid on coffee's imitation of wine. Check out all the ways how these above-average Joes are threatening us now:
* using word "terroir"
* rise of estate labeling
* a focus on harvesting good fruit
* existence of a barista guild certification
* frequent use of blind tastings, known as "cuppings"
* stating that coffee pros like their coffee served slightly cooler because it releases more aromatics at a lower temperature
* obsessing over gadgets, such as a $100 burr grinder
Hey, "coffee experts," back off! We wine geeks already have all these areas covered. And on the iPad version of the story, they even have the gall to offer an instructional video of how to brew coffee. Come on, we know that wine has a monopoly on "how to serve" videos on the web! Next thing you know, "coffee experts" will be spitting their java into a Jets bucket!
One thing they dare bring to blind tasting is rigor. Get this: in the Cup of Excellence program, "judges must be able to describe samples the same way when they are presented at different tables, in different orders." And the story's protagonist nails her own coffee when a cheeky barista in Red Hook tried to trick her in a cupping!
But don't worry, wine geeks, we still have one thing they don't: point scores! Yes, I pity the "coffee experts," since they are not able to substitute a subjective experience with the false pretense of objectivity–we still have that one covered!