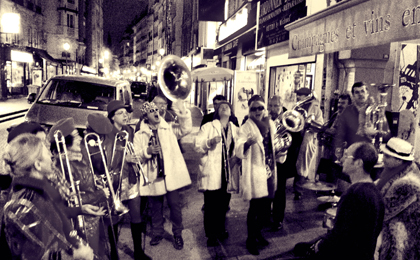 The 2011 Beaujolais nouveau debuted around the world this past Thursday. Much of it was airfreighted; American Tim Eustis discovered the lowest-carbon footprint version of the wine by riding his bike to six stores around Paris. He sent us this virtual postcard and pics.
By Tim Eustis
Beaujolais Nouveau succeeded in the United States and beyond thanks mostly to the marketing prowess of Georges Duboeuf. More fun than good, his wines are drinkable for perhaps a bottle, but no more. Then came the backlash against the flower label wine and cultured yeast 71B with its characteristic "gout de banane." The exciting rise of more "natural" Beaujolais Noveau, that lacks the banana flavors we'd come to expect, is a pleasure to sip. I unlocked my bike and set out to survey the wines–and the joyous scene–in some exciting wine shops in Paris.
My first tasting this year was at Cave Augé. Sadly, their usual array of barrels on the sidewalk offering the Vin Nouveau was missing. Apparently the upstairs neighbor had complained one too many times to the authorities. I learned some new French words when discussing this woman with the staff. Though they only had a few offerings, Foillard's was one of them. This wine was a great example of a perfect Beaujolais Nouveau, fruity, solid but supple, and balanced. Happily, it was available at the next store I visited too, Lavinia.
Lavinia gets a bad rap for being too big, too slick, too expensive, and it might well be all those things. But they have good wine. As well, they had an excellent Côtes du Rhône vin nouveau from Domaine Richaud — this house makes very pure Côtes du Rhône, with the classic red fruit, earth and barnyard flavors, and a hint of fizz from a really young wine.
It was clear to me that these primeur wines, the vin nouveau, though originally made as a way to test the current vintage, but which had become a marketing scheme, have been taken more seriously by the producers. Surely these aren't vin de garde, wines to age. But for pleasant and light drinking right now, they're perfect. An amusing window display at Le Repaire de Bacchus — a chain of stores, which carries quite a nice selection — stated "Banane toi-même." Banana yourself; thus stateth the backlash.
Off I rode to Le Mesturet, a local restaurant who was pouring Drouhin's Beaujolais Nouveau. Surprisingly dense for such a young wine, I might well have mistaken it for a light village wine. Afterward, I hit a few other shops and went home for a nap. (Obligatory on Beaujolais Nouveau day.) Sarah and I then walked down that evening to Ma Cave Fleury, owned by a member of the well known Champagne house, Fleury. (Their Extra Brut 1995 vintage Champagne is one of the best Champagnes I've had the luck to taste. Only 45€ at the store. $100 if you can find it in the states.) Morgan Fleury has a selection of organic and biodynamic wines, and a loyal clientele who gather outside sipping champagne and noshing on charcuterie plates especially on Beaujolais Nouveau night. A Parisian horn band, les Charlots d'Eon, provided the musical entertainment; there were oysters, which went well with the cloudy, Loire Vin Nouveau; and we followed that with another glass of the Domaine Richaud Côtes du Rhône nouveau.
A total of five tastings, many glasses of wine, and one of the more amusing versions of Blondie's "Call Me" made for a wonderful Parisian celebration. And not a hint of banana. Banane toi-même.
Above photo: "This is what Beaujolais Nouveau is all about. Ma Cave Fleury – best wine shop in my hood."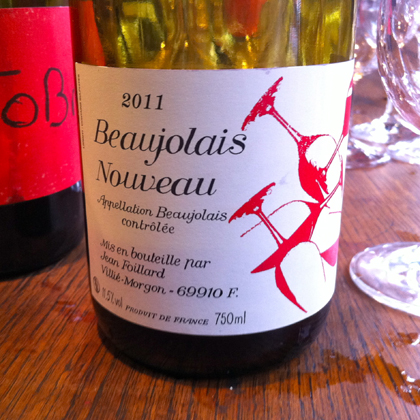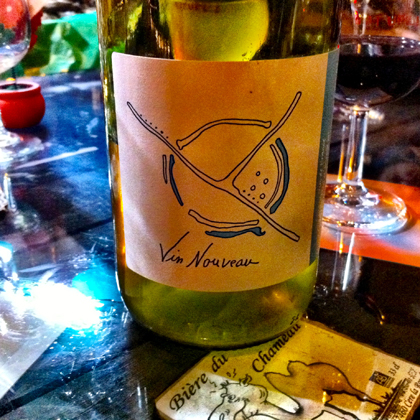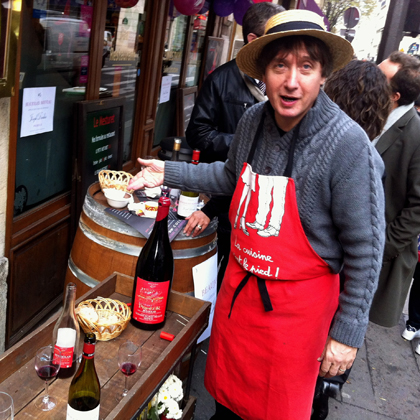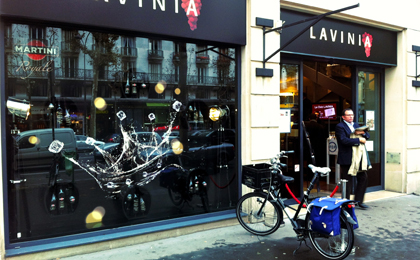 Le Repaire de Bacchus, Vente, Achat, Vins, Champagnes …
www.lerepairedebacchus.com/
Vente de vins en ligne, vins français et étrangers, achat de primeurs.
Le Mesturet‎
77 Rue Richelieu
75002 Paris
01 42 97 40 68
lemesturet.com‎
Caves Augé
116 Boulevard Haussmann, 75008 Paris
01 45 22 16 97
LAVINIA MADELEINE
3 Boulevard de la Madeleine, 75001 Paris
01 42 97 20 20 ‎
Domaine Richaud – Rhône
Marcel Richaud
Route Rasteau 84290 Cairanne
04 90 30 85 25
Ma Cave Fleury
177 Rue St Denis, 75002 Paris
01 40 28 03 39 ‎ · macavefleury.fr