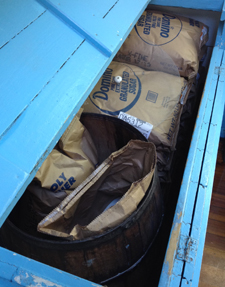 A convenience store in the Bordeaux region was found to have sold 170 tons of sugar in a two-year period. Why?
The store manager says that the locals told her they were making jam. However, a court found otherwise, levying a $6,700 "suspended" fine for selling sugar to wine producers without recording their names as law requires.
Wine producers in certain zones of Northern Europe are allowed to add sugar to the grape juice (aka must) before or during fermentation, a process called chaptalization. The goal is not to have residual sugar in the wine, which would make it sweet. Rather, it is to boost the level of alcohol. Producers must declare the amount used and pay a tax of $17.50 per 220 lb of sugar added. The general impression has been that global warming has diminished the need for chaptalization as rising temperatures boost the natural sugar in grapes. During fermentation, yeasts chomp sugars to ferment into alcohol (and CO2). But one of the years in question was 2007, a cooler and rainer year than usual for the region.
Even though the authorities collect the taxes for chaptalization and other forms of enrichment, they are reluctant to divulge the figues to offer a window onto how widespread the practice is. Dismayed by the lack of official statistics, Benjamin Lewin estimates that 17 to 33% of French wine is chaptalized, depending on the heat of each vintage.