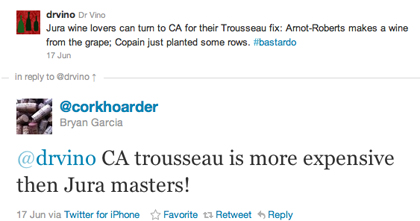 Have you ever said, "I cannot wait to get home and pop open a bottle of red California Trousseau!" It's not likely since the grape that hails from the Jura region of France is pretty rare in California: Only 49 tons were crushed last year (compare that to 400,000 tons of zinfandel; but since it fetched as much as $1,700 a ton vs an average of $442 for zinfandel, maybe the premium will attract future plantings). But maybe you should? Assuming the wines are done well, I think the expansion of grape varieties beyond the Big Six is potentially one of the most exciting stories to come out of California, nay, all of America.
A while back, I tweeted about Trousseau (noir) from Arnot-Roberts, a wine that I liked. The Sonoma-based winery sources the fruit from Luchsinger Vineyards in Lake County's Clear Lake AVA. Bryan Garcia, a savvy 24-year-old wine geek from NYC, tweeted back exclaiming that California trousseau is more expensive than the Jura masters!
It's a fair point. But if all the Trousseau lovers of America bought only Jura wines, who would buy the domestic Trousseau wines–zin fans? Somehow, I doubt it. And without demand for offbeat wines, producers would would likely give up making them commercially.
More broadly, what do you think: do you have any sense of obligation to buy local or domestic wines because you like the idea or the story, even if you find them not price competitive–or even quality competitive, as Bryan suggests by invoking the "masters"?