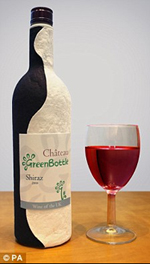 SPIT: carbon footprint
A cardboard wine bottle, similar in material to a milk carton, may soon be found in British supermarkets. Its maker claims it has only a tenth the carbon footprint of a glass bottle. [Daily Mail]
SIPPED: Valencia
Proava.org reported last month that Jay Miller would lead a "master class" of Valencia wines in the region this month. An email to Miller last week requesting comment did not garner a reply. It appears that his visit to neighboring Murcia has been canceled or postponed.
SIPPED: Burgundy in Hong Kong
Interest in Bordeaux softens while "Burgundy's on fire and sizzling." [Bloomberg]
SIPPED: summer fun
A fun slide show (from July): A Wine Tour of Collio, by Vespa [NYT]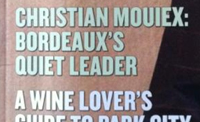 SPIT: copy editing
The cover of a recent Wine Spectator misspelled Christian Moueix, "Bordeaux's quiet leader" and a winner of the magazine's Distinguished Service Award.
SPIT: opening a bottle with a shoe
A reader tries to open a wine bottle with a shoe at a party and gets a trip to the hospital and six stitches for the effort. [comment]
SIPPED: rules
A 92-year-old woman in Britain was not allowed to buy a bottle of whiskey since she didn't have ID, only a pacemaker certificate. [Daily Mail]