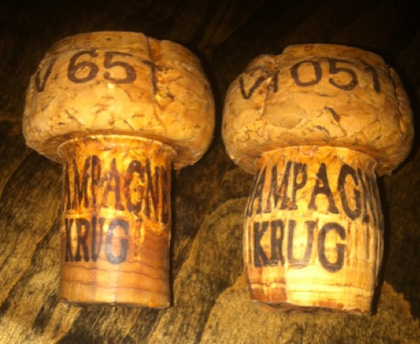 When you're shopping for bubbly between now until New Year's Eve, how will you know how long that nonvintage bottle has been on the shelf? If there were a disgorgement date on the label, you would have a better clue.
Over the weekend, Jancis Robinson tasted two Krug Grande Cuvée wines and commented on Twitter how different they were. Antonio Galloni of Robert Parker's The Wine Advocate replied to her that the WA has not reviewed Champagne without a disgorgement date since 2009. (See exchange below.) Jon Bonné of the San Francisco Chronicle wondered how many writers it might take to adopt the same policy to force the producers' hand in the region. It's a stick approach.
Here's a carrot for the producers: disgorgement dates will engage the most interested consumers. These are the ones that should be of particular interest to producers since they would look up further information on the producer web site and alert their world to their experience (good or bad) via social media.
Disgorgement dates are important. After the jump, check out Champagne writer Peter Liem, who is pro-disgorgement labeling, giving his reasons why they are important. I'm in favor of Champagne producers putting some sort of legible, comprehensible form of disgorgement dates on the (back) label. If you are too, hit the comments!
Why is the disgorgement date important? The simplest reason is that bottles disgorged at different times are, in effect, different wines. A particular cuvée of either non-vintage or vintage champagne will see several different disgorgements over the time that it's sold. This is done for practical, physical reasons in the cellars, and also because leaving a champagne on its lees keeps it fresher while waiting for the next outgoing shipment. But since they spend different amounts of time on the lees the wines will necessarily be different, even if these differences are subtle. The amount of post-disgorgement aging will obviously be different as well, which has perhaps an even bigger impact on the wine. Furthermore, it's a relatively common practice to adjust the dosage for different disgorgements of the same wine: earlier disgorgements usually take a higher dosage, because the acidity is more pronounced. In contrast, the dosage is often reduced for later disgorgements, as the wine mellows out and the acidity becomes rounder and less aggressive…

The main reason I like knowing the disgorgement date is not to find the "best" version of a cuvée, but to know what to expect when I open the bottle. A bottle disgorged six months ago is going to be different in character than the same wine disgorged two years ago. Since I prefer wines with more post-disgorgement age, I'll usually pick the older one if there's a choice. In truth, I actually enjoy tasting different disgorgements of the same wine, and find it to be a very instructive activity.
And the exchange on Twitter:

Krug corks photo from Raj Parr who added that with Krug Grande Cuvée, "you can only tell by the cork!"
UPDATE: Decanter.com reports that Krug Grand Cuvée will have disgorgement dates: "the code will also link to information about the harvest conditions prevailing in the year on which the wine is based, which makes up the majority of the blend. In London for the launch of Krug Vintage 2000 and Clos du Mesnil 2000, director Olivier Krug (pictured) said though both he and chef de cave Eric Lebel attach little importance to disgorgement dates and he doesn't think Krug drinkers do either."