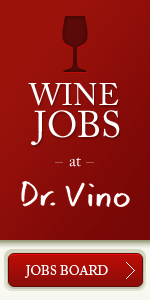 Are you interested in becoming a sales rep for a wine distributor with the area industry's "highest salaries"? Or becoming a senior buyer at a chain of 78 wine stores grossing $1 billion? How about a senior PR position at a wine importer? Would you like to be a sommelier at a leading restaurant in New York City?
All these positions–and more!– currently available and posted over at the new wine industry jobs board that I am launching today. Consumers, turn your passion for wine into a profession, either full-time or part time. Trade readers who want to trade up or trade across, check out what is available.
And employers, shine a light on your search by listing your open positions. For a limited time, take $99 off a classic listing (yes, that makes it FREE) or a premium listing by entering "pinot" at checkout. Premium listings remain at the top of the page, get listed in the daily email, and on the sidebar of the blog. Leverage our audience by providing the best possible visibility to your search for finding the strongest candidate.
So what are you waiting for, click over and take a look at jobs.drvino.com!