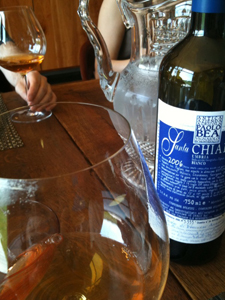 Orange wines are sweeping the nation! Well, something like that. These white wines emerge from their fermentation on the grape skins with a rich, sometimes orange, hue. Since orange is the color of the season, it's particularly apt to discuss, if not try, orange wines now. And that's what Dave Erickson, a site reader in North Carolina who blogs at the Wine Mule, has been doing and he sent in this question about them:
We had a tasting of orange wines the other night, and the question came up: How do sommeliers deal with these wines, when they all seem to need anywhere from 4 to 24 hours to become presentable? Do they tell diners to call in advance? Do they use aerators?
I forwarded it to Levi Dalton, a trend-setting sommelier and has been shining an orange light in the wine world for at least a couple of years now. What follows is his detailed reply:
Back in 2009, when I held the first of a series of Orange wine dinners at Convivio restaurant in Manhattan, [described as "easily one of the most fascinating and doubtless one of the geekiest wine tastings it's ever been my pleasure to attend." by one of those who attended–Dr. V] I started to really learn about the nuances of handling the wines. We had a whole page of our wine list already devoted to Orange wines at the time we threw that first dinner, in July of 2009, and we also already poured an orange wine or two by the glass. But it was seeing a number of different wines on the table and being poured side by side with different foods that really started to give a sense, for me, of the vast differences apparent between the individual wines and also some general rules of thumb. To give you an idea of what was poured, here is a partial listing of wines from that dinner: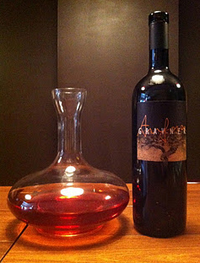 Casa Coste Piane 2006 "Tranquillo" Prosecco
Cornelissen "Munjebel 4" Bianco
De Conciliis 2004 "Antece"
Monastero Suore Cistercensi 2007 "Coenobium"
Monastero Suore Cistercensi 2007 "Coenobium Rusticum"
Monastero Suore Cistercensi 2006 "Coenobium"
Paolo Bea 2004 "Arboreus"
Massa Vecchia 2005 "Bianco"
Ca' de Noci 2007 "Notte di Luna"
Ca' de Noci 2006 "Notte di Luna"
Ca' de Noci 2005 "Riserva dei Fratelli"
La Stoppa 2004 "Ageno"
Castello di Lispida 2002 "Amphora"
Castello di Lispida 2002 "Terralba"
La Biancara 1996 "Taibane"
Kante 2006 Sauvignon
Damijan 2003 "Kaplja"
Damijan 2004 "Kaplja"
Radikon 2003 "Jakot"
Radikon 1997 Ribolla Gialla Riserva
Radikon 2001 Ribolla Gialla
Gravner 1997 Ribolla Gialla
Gravner 2001 Ribolla Gialla Amphora
Gravner 2000 Ribolla Gialla
Gravner 2001 "Breg" Amphora
Zidarich 2005 Vitovska
Zidarich 2005 Malvasia
Vodopivec 2003 Vitovska
Vodopivec 2004 Vitovska
Vodopivec 2004 Vitovska "Solo/MM4
Clai Bijele Zemlje Malvasia 2007 "Sveti Jakov"
Movia 2007 "Lunar"
Vinoterro 2006 "Kisi"
Wind Gap 2007 Pinot Gris
Scholium Project 2006 "Rocky Hill Vineyards – San Floriano Del Collio"
That's a lot of orange. So what did I learn for that abundance of color? Well, firstly I learned that every wine was unique. If I had arranged for a dinner featuring Red Burgundies from 30 different appellations, I doubt anyone attending the dinner would have thought that all the Burgundies tasted the same. And this is true for Orange Wines as well: if you taste a number of them side by side it is obvious that the tastes differ from bottle to bottle. But there is something about the novelty of Orange wines, about the textural aspect of grape tannins present in a white wine, that leads some observers into the trap of "seen one bottle of Orange, seen them all." On the contrary, after holding that first dinner, I glimpsed just how diverse the universe of Orange wine really is.
But there were some general impressions that came to mind. One was the idea of Orange wine and ageability. Some of the most exciting wines served that evening were the 1997 and 2001 Ribollas from Radikon and Gravner. It was clear that while the combination of acidity and grape tannins in a young Orange wine can accentuate each other and make the young wine taste "hard," proper cellarage of some of the more structured Orange wines can result in complex and nuanced wines ready to be approached. I certainly don't think that every Orange wine is a candidate for aging 10+ years, but it is my experience that some of the finest very much can benefit from extended time in bottle. Certainly I have seen more recently that the 2004 Gravner Ribolla is much more open today than it was on its release. The time in bottle has paid dividends. It is also true that this is an evolving style on the part of the producers themselves, and that in speaking with many of them, I have found that one of the aspects that they work with vintage to vintage is the management of tannins. So what may be true now may not be true of the same producer in the future.
One of the advantages of the limited demand for Orange wines in the market means that finding bottles ready to drink on a restaurant wine list isn't usually much of a problem, given that the venue has Orange wines in the first place. A case, once purchased, tends to stay in a restaurant's inventory for awhile. For example, you can still find Gravner 2001 and 2002 bottlings around without much trouble in NYC market. But it is worth mentioning that some Orange wines are best drunk right away, without waiting. Casa Coste Piane still Prosecco would come to mind as an Orange wine from the dinner that was a candidate for drinking young. So yes, there are many different iterations of orange. I think something to consider is whether you are dealing with a grape variety with a lot of natural acidity in general, like Ribolla Gialla or Vitovska. If you are dealing with a grape variety that is generally less acidic, the addition of grape tannins to the structure of the wine will probably mean less of a problem in terms of inaccessibility. The broad rule of thumb, I suppose, is that the Friuli-Venezia gang produce wines that may need more time than others.The wines of Paolo Bea in Umbria, La Biancara in the Veneto, and Massa Vecchia in Toscana, are also examples of ageable Orange wines.
Another aspect to keep in mind is that use of clay ageing vessels, to my palate at least, tends to modulate the acidity of the finished wine. There was perhaps no bigger contrast during that original Orange wine dinner than the side by side service of Gravner's 2000 Ribolla, produced without clay, and Gravner's 2001 "Amphora" Ribolla, his first vintage with clay. Clay aging leaves what I believe is an unmistakeable imprint on the wine, and one that I think makes the final wine from bottle in general more accessible.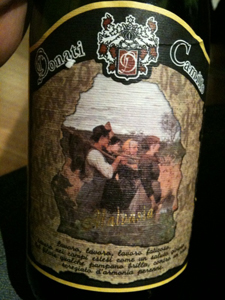 I usually serve orange wines at cellar temp (55 degrees F) and let the bottle warm up on the table from there. I learned at that first Orange dinner how keeping a bottle of Orange wine in an ice bucket can really dull the flavor profile of the poured wine. I see a lot of restaurants that keep their Orange wines in refrigerators and as cold as their whites for service. I don't see the sense of that. That only increases how "hard" the taste is once the bottle is opened. I usually decant an Orange wine, unless I know of some reason why I shouldn't. People want to see that color. It intrigues them. One reason I wouldn't decant an Orange wine would be that the bottle had intended carbonation, such as you might find in wines from the Emilia like Camillo Donati's. I usually don't double decant an Orange wine, as I have found you can push a wine back into its shell that way, drinking seemingly "closed".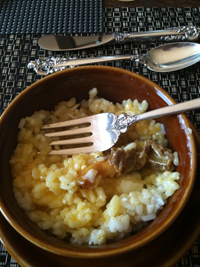 I also think that, just as with most any wine, food can bring an Orange wine out in interesting ways. What I think of as umami foods go well with orange wines: uni, certain mushrooms, garlic, aged cheeses, a fish sauce in the sauce of a dish, anchovies, eggs, dried Bonito flake. These combinations can really open up a wine that might be somewhat hard on its own. At Convivio we had a signature pasta of sea urchin malloreddus with crab. This was a favorite Orange wine pairing for many of our guests. As another thought, if I was going to serve a highly structured Orange wine young, I might serve it as Neal Rosenthal once showed me to do, with a dish of poached egg. It may not seem intuitive at first, but many of the foods (such as eggs) that go well with Nebbiolo, another combination of high acidity and high grape tannins, also go very well with structured orange wines. Try it out! Sometimes I think of Orange wines from Ribolla as the "White Nebbiolo". Maybe it is for this reason that I find Orange wines so flexible when pairing after a red wine in a sequence of dishes. Say you serve a lighter red wine with a meat antipasti or pasta. I might advise serving an Orange wine with the fish dish following this. Especially if garnishes and sauces lent themselves to an Orange interpretation.
In terms of opening up bottles of Orange wines in advance of a dinner, it is certainly something I have done when organizing Orange wine dinners where I knew how many bottles I would be serving. In that case I have opened up bottles as much as a day before the event. When doing so I think it pays to give some attention to the smells that might be in whatever room the open bottles will be stored in. The more neutral the environment, the better. As a buyer who has put together lists of wines to serve by the glass, I have put on orange wines by the glass that I specifically thought were somewhat hard, with the rationale that 3 out of 4 glasses from that bottle would see some time open and more exposure to air. This same logic applied when devising an Orange wine pairing for a tasting menu.
Mostly I have learned that this is a dynamic category that we are just beginning to understand. If you have specific tips of your own, please let me know.
Best,
Levi