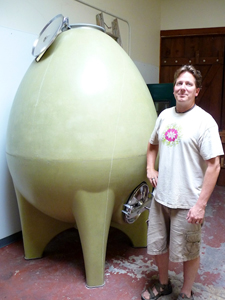 When I bumped into Pax Mahle earlier this year at his Sonoma wine making facility, I told him I wanted to see his eggs. Fortunately, he didn't drop his drawers. Instead, he took me to his fermentation room where he had a massive pair of cement egg-shaped fermenters!
Pax used to make full-throttle wines, syrahs and pinots mostly, that scored big Parker points. Then, in what might be another stop in our "Road to Damascus" series (see Wells Guthrie), he grew tired of the style at around the time he had a falling out with his financial backer, bringing an end to the Pax label. His new label, Wind Gap, offers lower-octane wines thanks in part to cool vineyard sites as well as the changing tastes of the wine maker. "My tastes tend to prefer a lighter style," he told me, adding that his favorite wine of his on that warm June day was is his Trousseau Gris. Unfortunately, I didn't have an appointment with him and he was heading out so I didn't have a chance to taste his wines. Just to see the eggs.
Of note, he said that he has won back the Pax name and will be releasing about 700 cases of wine under the Pax label. Wind Gap makes about 3,000 cases of wine a year.
Anyway, after a trip to the Republic of Georgia, Alice Feiring wonks out and informs us that to be über wine geeky, we should call amphora by the Georgian name of qvevri!
Another Pax egg shot (mine) and video (found on youtube) after the jump.