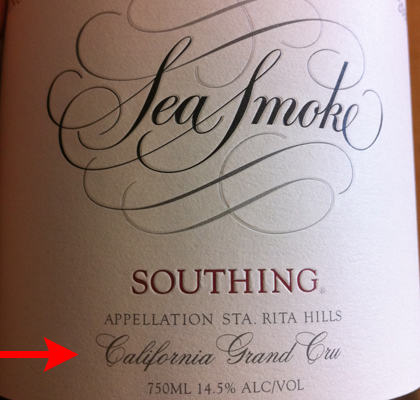 New for the 2009 vintage: Sea Smoke of Santa Barbara is putting "California Grand Cru" on the label.
The term is pure marketing. Needless to say, there is no codified "cru" system of California. However, the term does not fall afoul of the protected terms negotiated in the EU-US accord on place names. The labels previously read "Santa Barbara County California."
After eyeing it for some time, Bob Davids acquired an apparently gorgeous, 350-acre parcel in the Santa Rita Hills in 1999 for his label Sea Smoke. According to North American Pinot Noir, it was previously a bean field. He immediately developed about 100 acres into vineyards; the first vintage was 2001. The winery produces four pinot noirs and two chardonnays; all bear the term "California Grand Cru" for the 2009 vintage.
Queried about their decision to use their term, Director of Winemaking Victor Gallegos pointed me to this Wine Spectator article ($) in which James Laube called Sea Smoke "an important part of Santa Barbara's wine scene and one of its 'grand cru' properties."