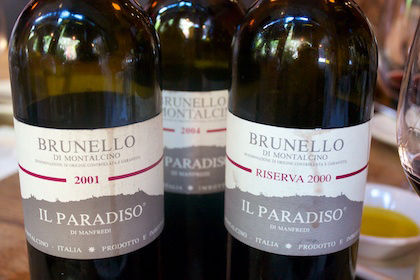 I attended a private dinner recently where a Brunello was the main wine. It was big and extracted and I found it fatiguing. I can't even remember the producer's name. Of course, the palate fatigue wasn't helped that the other wines on the table were a primitivo and an Amarone. It was the sort of lineup that made me want to step outside under the pretense of feeding the meter and wander off to find a beer.
A few weeks later, I had another side of Brunello, aptly named Il Paradiso. In 1958, Manfredi Martini bought some land in Montalcino. He worked at Biondi-Santi and converted his seven-acre property from olive trees to a vineyard of sangiovese grosso. When the Brunello de Montalcino DOC became formalized in 1968, there were only about a dozen producers (there are now over 200). Today, the vineyards ekes out a mere 9,000 bottles a year, split between a Rosso and the Brunello. Manfredi's daughter and son-in-law, Sorella and Florio, continue making old-school Brunello from the organically grown vineyards and raised in barrels as large as 2,500 liters.
When sangiovese is on, it is gorgeous. I tasted the wines at their American launch (Grand Cru Selections is importing them; search for these wines). The 2004 was the richest of the wines I tasted–this is still Brunello, not Chianti, after all–but it was plummy rather than the tiring jam. The thing that got me about this wine was the concentration without being overdone. The 2001 has an alluring aroma of spice, cedar, faint volatility and oxidation with a lovely, appetizing bitterness on the ten-year old tannins. Layered and complex, it is drinking well now. The 2000 Riserva saw more time in large oak barrels but has an old-school charm, redolent of earth, leather, and faint spice. These are distinctive Brunellos–definitely not ones to walk out on.