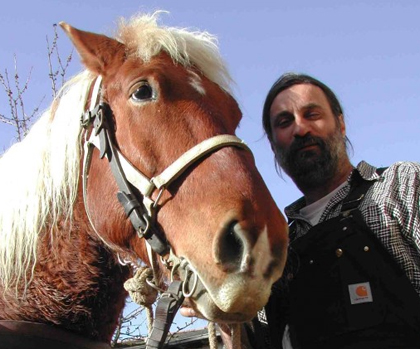 Although we mentioned it last week in a squib, it bears mentioning again: the French authorities have threatened Olivier Cousin, the horse-tilling vigneron that is a mentor for many younger ones, has been threatened with a $50,000 fine and two years in jail.
His transgression? Goofing around with names. The biodyanamic farmer of 25 acres in Anjou told Jim Budd that he left the AOC system in 2003 because it was too lax. "I stopped because the AOC is for industrial wines as the rules permit everything: weedkillers, huge yields, additives etc." He thus marketed his wines as vin de table, the category at the bottom of the French administrative category as few are bold enough to do (as I detailed in Wine Politics). He marketed one of his wines as "Anjou Pur Breton," which somehow made it past the authorities for several years despite containing a place name and a grape name (Breton is a local name for Cabernet Franc).
His distributor wrote "AOC" allegedly for "Anjou Olivier Cousin" on cases of his wines. This, coupled with his refusal to pay obligatory dues to an association, was the straw that broke the administrative camel's back: He has been threatened with a significant fine, possible jail time, and one of his bank accounts have been impounded. The decision of how to proceed now lies with a prosecutor in Angers.
The crackdown on this sympathetic figure appears to have backfired. Thanks to the global reach of the internet, awareness of his treatment is high. Over 500 people have signed a petition on a French blog, his American importer is also mounting a campaign for signatures, and his UK importer is helping pay his legal bills. It's sad that the Loire, site of so many distinctive wines that offer France a calling card overseas, is also the site of clashes with a moribund bureaucracy.