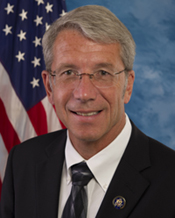 Representative Kurt Schrader (right), whose district bisects the Willamette Valley, has taken an odd stand: he's signed on as a co-sponsor of a bill that would hurt small wineries.
HR 1161, which we have discussed previously, would limit judicial challenges to state laws on the interstate shipping of wine (and beer and spirits). If this bill were to pass, it could impact wine shipments negatively and irrevocably. Consumer choice could be reduced; many small wineries depend on the wider margins of direct sales to keep in business. HR 1161 was written by beer distributors.
While distributors are well-organized and the bill has over 100 sponsors, wine consumers might have thought they could consider on representatives whose districts include wine production as allies. Apparently not.
Vintners in Oregon's fifth district are dismayed, as the Statesman Journal reports. "This is all about money," Jim Bernau of Willamette Valley Vintners said. A spokesman for Schrader said the representative "does not allow contributions to his campaign (to) impact the decisions he makes on questions of public policy."
In other wine and money news, Steve Grossman, Massachusetts state treasurer whose office regulates liquor sales, raised $45,000 from the industry at an event last month according to Boston.com. The sum represents a quarter of the total he has raised this year. Few out of state wine retailers will ship to Massachusetts as a result of its wine shipment laws and a federal court had to overturn state policy that limited wine shipments. An aide to Grossman said it will not affect his policy decisions.