The New York Times magazine ran an charticle on Sunday that compiled the picks of 18 wine industry types. The category? Wines under $12.
But the list raised questions for Ray Isle of Food & Wine, since he tweeted: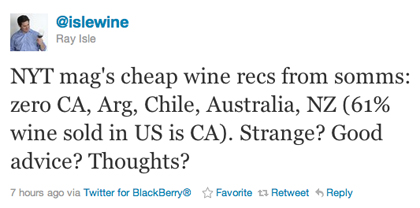 The lack of California wines is understandable for a couple of reasons. Yes, California makes a lot of wine and much of it is under $12. But, as we have discussed before, precious little of the California wine under $12 is estate wine; rather it is often assembled from far-flung vineyards in steel tanks so large they could double as nuclear silos. The two American wines on the list, from NY and OR, are both from single estates.
The people on the list, mostly wine directors at restaurants, don't exactly champion tanker wine. They are trend-setters or at the very least someone who wants to help a diner or customer discover something new that they might only find at a restaurant or specialty shop. Also, the composite nature of the list means that one author didn't save spaces for certain categories as each contributor gave a top pick. As to the absence of other new world countries, perhaps that was a function of the taste preferences of the people surveyed too.
Anyway, good wine under $12 is always of interest and Ray raises some good questions. What do you think?