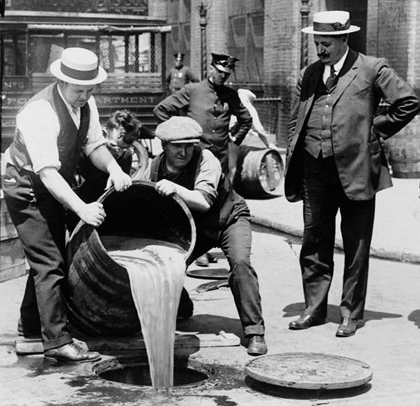 If you've turned on PBS during the past couple of nights, you've probably encountered slow zooms and pans of black and white photographs. And the people in those photos may have been women protesting saloons or men using hatchets to destroy barrels of whiskey. Yes, these are scenes from Ken Burns and Lynn Novick's three-part series, Prohibition.
I've seen the first episode (available here online), entitled "A Nation of Drunkards," that chronicles the social and political forces that led to enacting Prohibition. Part of it was that men were drinking Herculean amounts of whiskey. As Ken Burns told Stephen Colbert, men were each putting away 180 bottles of whiskey a year. To which Colbert replied: "How did we conquer the West?" Another factor was the rise in political activism among women. The episode is well done and very much worth watching.
But the one that I am most looking forward to is the concluding episode that airs tonight. It's not because I merrily rejoice that the "noble experiment" was undermined by a lack of enforcement, double helpings of hypocrisy, and became such a miserable failure of policy. What intrigues me are the myriad unintended consequences of the policy, particularly for the wine industry. I detailed these in my book Wine Politics: How Governments, Environmentalists, Mobsters, and Critics Influence the Wines We Drink. Prohibition dealt the American wine industry such a disastrous blow that it left a lingering finish that can be measured in decades (not seconds, as wine tasting notes sometimes include). Paradoxically, grape acreage increased under Prohibition even though the making, transportation and drinking of wine (other than sacramental wine) was largely illegal. I say "largely" because of a loophole that allowed for the making at home of "non-intoxicating fruit juice," a loophole that was relentlessly exploited. This decreased the quality of wine, needless to say, and associated wine with a cheap buzz, setting back the image of wine for decades in this country.
But the lingering effects of Prohibition are still felt in the form of the politics of distribution. Instead of having on national regulation, there are 50 state regulatory structures. Instead of allowing vertical integration or self-distribution, wineries must have a distributor in almost all states not their own. Online wine sales have been hampered. For many wine consumers, the selection suffers and prices are higher at the same time wine has become more popular than ever. I get into more details in my book; I hope Burns can highlight these lingering effects; he paid no attention to Jerfferson's perception of wine as a drink of moderation in episode one, so I fear it is unlikely he will get into the continued effect of Prohibition today.
But either way, the documentary is definitely worth watching tonight. Preferably, with a glass of wine in hand.
PROHIBITION: a three-part, five-and-a-half-hour documentary film series directed by Ken Burns and Lynn Novick