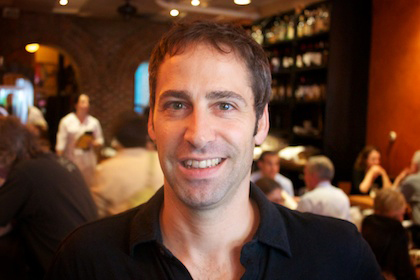 King Solomon was known for his wisdom. And when he ordered a baby cut in half, he made a woman cry.
John Slover is the Solomonic sommelier, though his splitting things in two is more likely to make people happy. When at Bar Henry, he introduced a bottle-splitting program, wherein diners could order 375ml of a regular bottle for only half the full-bottle price (No upcharge! The remaining 375ml is then available to other diners.). This encourages diners to experiment, by, as an example, having a half a bottle of white with appetizers and a half a bottle of red with the main course.
He's continuing the wisdom of this strategy at Ciano, where he is the wine director at the restaurant that opened last year with Shea Gallante in the kitchen. Slover said wine sales have been strong, adding that the bottle-splitting program "has made money, certainly not lost any." Two diners sometimes buy a full bottle and then order another half that they wouldn't have normally ordered to try something new.
Slover divided the wine list into a "market" list where the splitting is allowed and a "reserve" list where it it is not. Unless he can broker a share on one of the pricey bottles. And he has done so, for example, selling a DRC Echézeaux 1985 for $1,200 per half to two tables. One evening, knowing a Rhone fan dining in the restaurant, he proposed a half of 1995 Henri Bonneau, reserve des Célestins, a Châteauneuf-du-Pape. The diner said, "Bring it on." Then Slover proposed it to another diner who might be interested and he said "absolutely." They enjoyed it so much they then went halvsies on a 1985 Rayas.
Let's just hope Slover keeps his saber sheathed while doing his trademark bottle splitting. That would make us all weep.
Ciano, 45 E. 22nd Street, 212-982-8422