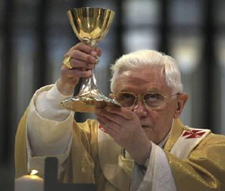 The Phoenix diocese just got news from their bishop: you can survive on bread alone. During Mass, that is, since he is removing wine from the communion, save for a few times a year.
Bishop Thomas Olmsted has taken the action as part of a new translation of the Mass that will start in coming months. The Arizona Republic reports that no other diocese in the country will be removing wine from the Communion. Since 1975, bread and wine have been available to parishioners during Catholic Communion. Bread and wine are believed to be transformed during the service into the body and blood of Christ. There is no obligation to take both and the Diocese of Phoenix' press release underscored that "… bread alone makes it possible to receive all the fruit of the Eucharistic grace."
Criticism mounted of the wine-less mass. So the chalice may not disappearing a Mass near you soon. Unless you live in Phoenix.