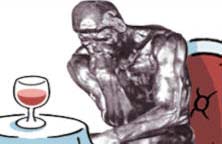 Writing in yesterday's NYT, Eric Asimov delivered wine education a puzzling broadside in the last paragraph of a story about beer:
Beer consumers are a far more confident lot than wine consumers. They're at ease with beer, mostly because they've had a solid grounding in their subject, unlike wine consumers who've been brainwashed into believing they must be educated or taught how to "appreciate" wine before they can enjoy it.
Who are these "beer consumers" and "wine consumers"? Are they the average consumer, who drinks mostly Bud and Yellow Tail or are they the dedicated hop heads and wine geeks? Some specificity would help the discussion.
Further, how did "beer consumers" gain such confidence–through Super Bowl ads? Doing keg stands in college? I assume through tasting, talking, reading and perhaps taking a class; I doubt they were born with a knowledge of the effects of dry-hopping and decotion on the finished beer or knowing differences between a saison, a pils, a kölsch, and a Berliner Weisse. As exciting as the craft beer revolution is, it takes some education to successfully navigate increasingly complex beer menus or beer selections at specialty stores. And, fortunately, it's the kind of research that a lot of people can take pleasure in.
Finally, which "wine consumers" feel "brainwashed" into thinking that they have to have studied wine to enjoy a wine? (And who is doing the brainwashing–the wine education/book publishing/bulletin board industrial complex?) This sounds like a straw man to me as I have never met a wine consumer who couldn't simply pull a cork, pour, and enjoy a wine without having a categorical knowledge of its production. And I'm not really sure where his advancing the brainwashing position takes the discussion. Surely Asimov is not arguing that tasting, talking, reading and perhaps taking a class about wine is a waste of every one's time–how did he gain his knowledge, after all?
The comparative question of how craft beer enthusiasts and wine geeks, the most die-hard of the two constituencies, achieved their knowledge is interesting and worth pursuing. If I were to look into it it variables I would examine include: the role of critics in each beverage; the role of online discussion boards and user-generated reviews/ratings; the extent of home wine making or beer making; the availability of formal classes or training; and the geographic proximity of an enthusiast to a microbrewery or winery. Hmm, thinking about this makes me want to go crack open a nice cold wine and enjoy it without angst.