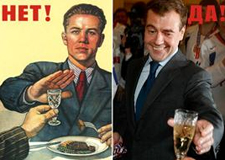 Russian President Dmitry Medvedev came out with a counterintuitive approach to fighting alcoholism in his country: drink wine. During a recent visit to Krasnodar, a leading wine region, he said: "Wine making is one of the sectors that should be developed to help contribute to the eradication of alcoholism." As this informative post over on FT.com reminds us, it was only a generation ago that Gorbachev led an anti-alcoholism campaign that included symbolically plowing under some vineyards.
If Medvedev's approach has a similar ring to it, that's because Thomas Jefferson also advocated wine as a drink of moderation as opposed to the "ardent spirits" of his day (mostly whiskey). Although Jefferson's appeal fell on deaf ears, Medvedev's has slightly more hope: the FT post says that as Russians travel, they favor wine over vodka. Also, Russia today, unlike the USA of Jefferson's time, actually makes a fair bit of wine: Statistics vary, but it is somewhere between the seventh and thirteenth largest producer in the world. In fact, Medvedev made the call in the region of Krasnodar, which is on the Black Sea and is the home of Sochi, host of Winter Olympics in 2014. So expect more coverage of Russian wine in the next couple of years as they try to shake off the image that their wine is only one step above paint remover. (One sign that they are succeeding may be that the largest sparkling wine producer is having an IPO.)
Surprisingly, the eight liters of wine per person that Russians already consume places them only slightly less than the US and much more than their fellow BRIC countries, which are all under two liters per person.
But if Medvedev really wants to take the Jeffersonian mantra to heart, he needs to purge the market of non-grape, ersatz wines that give real wine a reputation for cheap swill and cut taxes on wine instead of raising them. As Jefferson declared, "No nation is drunken where wine is cheap."