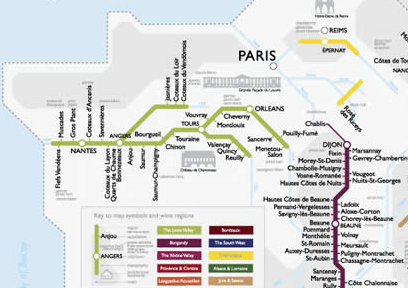 Have you ever thought about the iconic Tube maps from London or the Paris Metro maps, in all their stylized glory, and how they would look applied to wine regions?
Well, wonder no more. San Francisco architect and professor David Gissen worked up just such a map; now it is available for purchase as a cool 18 x 24 wall decoration. Each region gets its own color like one of the subway lines and the subregions are various stops. Here's what Gissen said via email about his inspiration for the map:
I guess I made the map as a sort of loving critique. I feel that the American appreciation of EU wine is dominated by a pastoralist point of view and aesthetic. If I see another picture of a vineyard or pruning shears, or a wine map that looks like a hiking map, I might lose it. I believe that French wine (like all EU wine) was born in and through villages, towns and cities. From my perspective it's completely urban. I want to make some artifacts that express my point of view. The map is the first of these. I may make others, but I'm not sure. Of course, if you need to learn the appellations, the metro-wine map is useful, but I'm not primarily interested in its instrumentality. I'm more interested in its ability to shift what we understand wine to be.