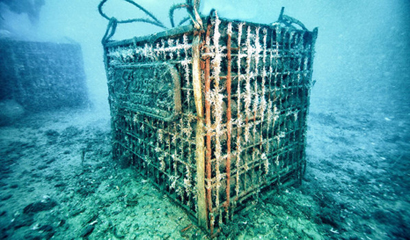 Into the abyss. You might think that's the metaphorical direction of our country these days, with the economy on the shoals, an earthquake and hurricane rattling the east coast, and the great Steve Jobs retiring. But it's actually where an Italian sparkling wine maker is storing wine.
The NYT had a good story about Piero Lugano of Bisson who dunking his wine a couple of hundred feet under the Italian sea for a year's aging called "Abissi." Here's his reasoning:
"It's better than even the best underground cellar, especially for sparkling wine. The temperature is perfect, there's no light, the water prevents even the slightest bit of air from getting in, and the constant counterpressure keeps the bubbles bubbly. Moreover, the underwater currents act like a crib, gently rocking the bottles and keeping the lees moving through the wine."
It's an interesting idea (even Cristal has tried it) that evokes all those amphorae strewn on the floor of the Mediterranean, even if they weren't put there for that purpose. For wineries that would have to rely on climate-controlled cellars, this storage would be a greener option if they get their power from non-renewable sources.
I can't help but wonder though…is it a marketing gimmick? It gives the wine a great story and wines with great stories generally fetch higher prices for wines. If you look at a video, the bottles are lowered into the sea in large cages–is it really possible that the ocean swells could rock those? The article doesn't say which type of closure they used but if it was a crown cap, as is common for bottle fermentations, doesn't that have an oxygen transmission pretty close to zero anyway? And I'm not sure what to make of the comment about atmospheric pressure on bubbles given that the undersea pressure is probably greater than that in the bottle of spumante. But anyway, it's a fun story. If you have thoughts about the effectiveness of giving Neptune the keys to the cellar, hit the comments.