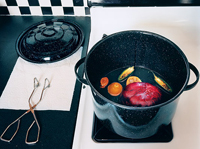 "When I was pregnant, I just craved organs…so the placenta just made sense."
So a new mother is quoted in a New York magazine article on cooking placenta. No, not polenta–placenta. I've never delivered a placenta personally, so maybe that's why I find it a little difficult to, erm, swallow. But the NYmag story highlights various preparations including raw, popped in the blender with coconut water and banana, stewed with ginger, lemon, and a jalapeño pepper, and even pill form.
So let's help the new mothers (and new fathers?) out there as only enophiles can with the fruit of their own labor and the fruits of the vine: which wine would you pair with placenta–or is it impossible?!?
Related: "Breast milk cheese: impossible food-wine pairing?"