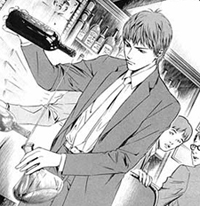 SIPPED: English
"Drops of God," a serial comic book from Japan that is purportedly addictive and moves the Asian wine markets, will finally be published in English next month. (Backgrounder)
SIPPED: horreur!
Lafite actually declined eight percent since April. [Liv-Ex]
SIPPED: getting pissy
Gerard Depardieu, vineyard owner, makes air travel fun for everyone. [NYPost]
SPIT: breathalyzer
An iPhone app tells you if you're buzzed. But you don't breathe into; rather, it's a sobriety test of data entry. Would Gerard have passed the test?
SPIT: beer
Wine in Thailand: It's not just for old, rich folks anymore, apparently. [BK]
SPIT and left for dead: bad web design
A Slate columnist examines the incredible suckiness of restaurant websites. Winery web developers, take a look!