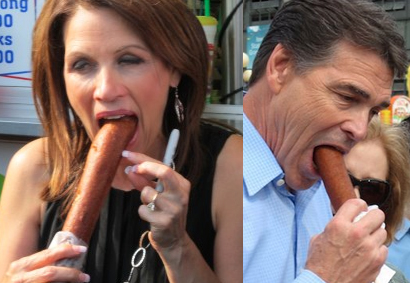 Ah, Iowa. Every four years, politicians stampede your county fairs, kissing babies, shaking hands and eating fried foods. This year provides the spectacle of a raft of socially conservative Republican contenders chowing down on foot-long corn dogs. Doesn't the Bible say something about that? Anyway, let's help them as only enophiles can: which wine would you pair with corn dog on a stick…or is it impossible?!?
And for those who were wondering about pairing wine and the Bible, check out our archive post on Jesus, oinos, and the marriage at Cana.
Images of Michele Bachmann and Rick Perry are reduced-sized crops by Toby Harnden and Iowa Politics. See Kos for complete library of corn dog and pols pics.