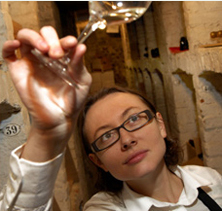 Any restaurant that (a) has a credo; (b) has a credo in Latin; and (c) has a credo that relates to health is on a mission. Such is the case at Rouge Tomate, a Michelin one-star, where the credo is Sanitas Per Escam (Health Through Food). But this is no grungy spot with Birkenstock-clad waiters; rather, it is a gorgeous 15,000-sq ft space around the corner from Barneys. So, which wine do you pair with nutritious gastronomy that favors local and rejoices in natural?
In the three years since the restaurant opened on the Upper East Side, that question has been the domain of Pascaline Lepeltier. In that time, the former philosophy major from Angers who could still pass as an undergrad on a university campus, has assembled an impressive list of over 300 wine selections and become an admired fixture of New York's world.
As you might expect, most of the wines come from organically grown vineyards or are considered "natural" wines, about 70% of the list by her estimation. But she's not a dogmatist. She looks for "wines that are true to their place, to their vintage, and to their winemakers," adding that "many great wines are made conventionally." The list thus draws not only on places like the Jura or Montlouis but also California, New York and Bordeaux.
"I'm opening a La Tache, Frank Cornelissen, a Movia, a sake, a Marcassin on the same night," she says, illustrating the range of styles on the list.
While she says that her goal is to understand what each guest wants, she is also thrilled to be able to list wines she is particularly enthusiastic about. She told me that she listed an "orange" wine–a somewhat oxidative style of wine popular with some wine geeks–by the glass and was delighted at the response.
Chenin blanc is her not-so-secret passion. She has 25 Chenins on the list (sparkling and still), so you'd be hard-pressed to find more Chenin Blanc on any wine list in New York City or, probably, anywhere outside of the Loire. They include sparkling and still renditions of the grape and from up-and-coming producers such as Damien Laureau and masters such as Domaine Huet.
While there are some values on the list, she says that wines under $50 have had difficulty selling. Goes with the neighborhood, I guess. However, there are still some under $50, such as the crackling 2010 Muscadet from Domaine Louvetrie, the 2009 Hermann J. Wiemer "Dry" Riesling and several reds from the Loire. There are also some Calforia cabernets with age, as well as many hard to find selections from Cornas or Irouléguy. Check it out: the wine list is a feast for the eyes, as well as the palate at any price point.
If you do find yourself at Rouge Tomate, be sure to ask Pascaline for her suggestions. At the very least you'll find her attitude refreshing, neither snobby nor doctrinaire. As she says, "I think wine is a question of humility. I want people to feel comfortable and not feel intimated by wine."
Rouge Tomate
10 E 60th St between Fifth and Madison Aves
phone: 646-237-8977
rougetomatenyc.com
Wine list (pdf)