SIPPED: keepin' it klassy
Forget screwcap or cork: a company has just been authorized to put Bordeaux in a can. That should solve their marketing problems to young people since it will now be easier to shotgun!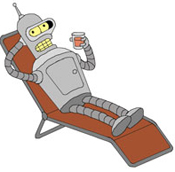 SIPPED: robots again
Robots, last seen in our 2006 threat-down, are again meancing the sommelier class with their e-tongues! The new challenge comes from Catalonia but fortunately a somm bats it down at the bottom of the story. The world of dining remains safe for humans! But will the e-tongues threaten critics next, dunking into wine and spitting out points? [CNN]
SPIT: 2010 Bordeaux futures
Simon Staples of BBR in London says that total Bordeaux 2010 futures declined by 50% from the previous year, citing high prices and small releases from the chateaus. Only five percent of sales went to Asia. But auctions are still growing at a 46% clip in the first half. [Bloomberg]
SIPPED: winery stores
A new law in NY will allow wineries to open up to five sales rooms throughout the state. That's all well and good, but why should wine stores owners still be limited to only one store in the state?