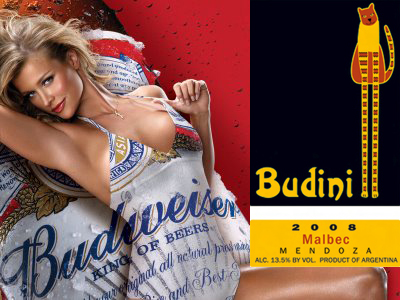 I just got an email from the importer of a 17,000-case Argentine malbec called Budini, which will now be called Bodini. Here's why:
Vine Connections recently made the decision (or should I say that we were strongly advised by some attorneys to make the decision) to change the name of the wine formerly known as Budini. It will now be called Bodini.

The Budini brand has been in existence since the 2002 vintage. We made the decision to change the Budini brand name because there is another alcoholic beverage company which aggressively protects its trademark that starts with the letters "B-U-D".
Really, I don't have any trouble telling the above two labels apart–do you? How many drunk (or sober) people are really going to order a Budini when they wanted a Bud–or vice versa?