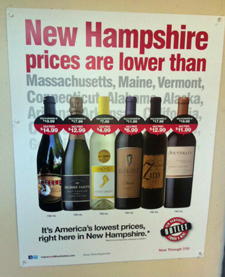 Coming back from a terrific weekend in Maine, where blueberries are fresh and the lobsters still pair as well with white burgundy as ever, I steered the Dr Vino mobile into the last exit for the New Hampshire State Liquor Store off of I-95. (Incidentally, the state store is also paired at the rest area with a "Made in New Hampshire store," as opposed to the "Christmas Tree Shops" along the way that might as well be called the "made in China store.")
My curiosity was piqued: was this state store a wine lover's nirvana, delivering on the promise of great prices thanks to their bulk buying? Or was it a dreary place, with low inventory, poor selection, surly or ignorant staff?
A bit of both. Some of the pricing appeared to be pretty sharp as the buyers were clearly able to wring concessions from big wine producers and pass those savings on to consumers, as they should since they are acting as both wholesaler and retailer. (There may have been good savings for spirits too but those aren't my bailiwick.) But while there were a few wines from good importers and producers on the metal shelves under the fluorescent lights, there wasn't a lot of intrigue for the wine geek. Consider the rosé selection, which had only a handful of selections with everything except for Domaine Tempier 2010 ($34.99) lackluster. Or the Champagne section where the buyer didn't get the memo about the exciting grower Champagnes that have made it to our shores in the last decade. Some snapshots: "French wine" had one aisle and "Italian wine" had just a half; Loire wines were patchy; Beaujolais was entirely from one negociant and Burgundy was more negociant-driven than domaine; California was by and large a snoozefest.
In the end, the state liquor store seems to focus on volume and price. There's certainly a place for that in today's economy. But the store is not in the vanguard of progressive wine retailers in America. Even Costco, from what I understand, throws a few more bones to wine geeks in states where they sell wine.
What's your experience of the NH State Liquor Store–do you think it holds sufficient intrigue for a wine enthusiast to make a stop? Even though I left with a bottle Chateau Musar 2001 ($35.99) that I didn't know I needed, I wouldn't be inclined to make a pit stop there again. Unless the kids needed the rest room or I suddenly needed at five-liter jug of Absolut.