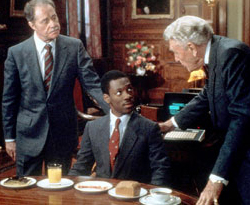 As of today, the venerable contract for pork bellies is no longer trading on the Chicago Mercantile Exchange. So important was the contract at one point, the CME was once known as the "House that Bellies Built." But it was Eddie Murphy who cemented the contract in popular culture using it in his explanation of market dynamics (see below). Even though bacon has off-the-charts popularity today, interest in the contract had dwindled to two a day–both from the same trader.
So let us honor the now-defunct contract as only Bacchus would–pairing it with wine! Let me use my blogger's privilege to launch the thread by suggesting…a great off-dry Riesling. The sweetness and acidity are a magical pairing (assuming you're not a vegetarian) with the saltiness and fattiness of the pork. Which wine say you?
More Eddie Murphy after the jump!
Getting schooled in commodities…

Which leads to this priceless exchange:
Randolph Duke: Exactly why do you think the price of pork bellies is going to keep going down, William?
Billy Ray Valentine: Okay, pork belly prices have been dropping all morning, which means that everybody is waiting for it to hit rock bottom, so they can buy low. Which means that the people who own the pork belly contracts are saying, "Hey, we're losing all our damn money, and Christmas is around the corner, and I ain't gonna have no money to buy my son the G.I. Joe with the kung-fu grip! And my wife ain't gonna f… my wife ain't gonna make love to me if I got no money!" So they're panicking right now, they're screaming "SELL! SELL!" to get out before the price keeps dropping. They're panicking out there right now, I can feel it.
[on the ticker machine, the price keeps dropping]
Randolph Duke: He's right, Mortimer! My God, look at it!